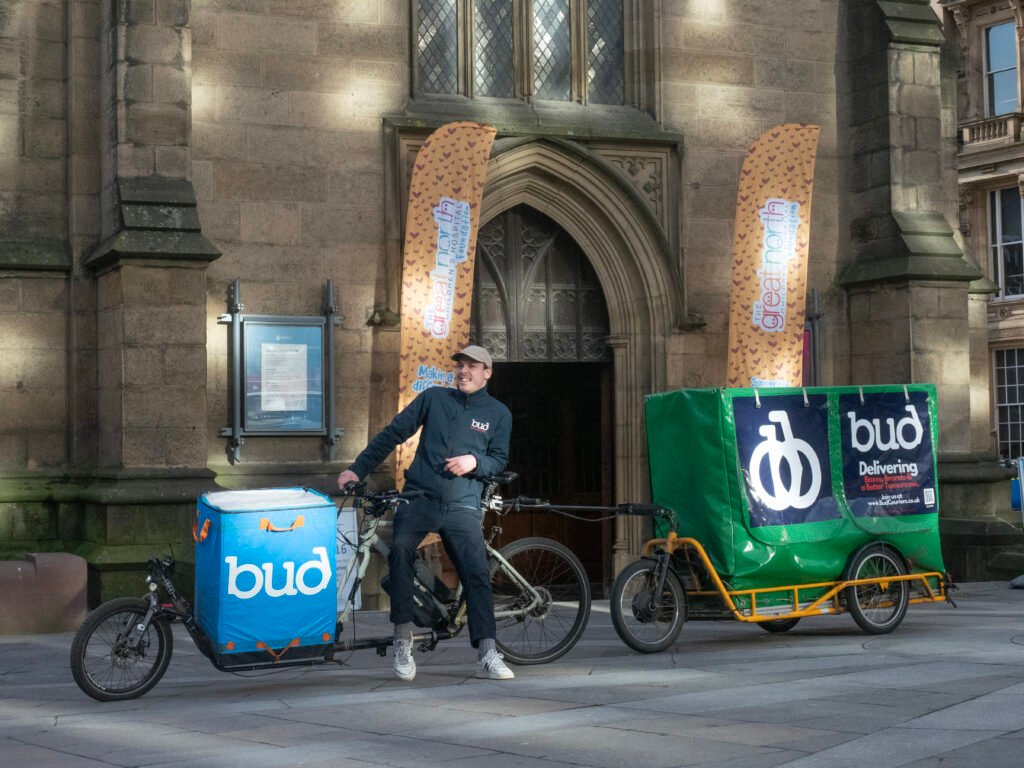 Why I've decided to start a fast, friendly and green delivery service in Newcastle upon Tyne and how you can get involved.
You ASK, We Deliver – Witten by Emily Rickerby, Living North Magazine
Bud Couriers is a zero emission bike courier service based in Newcastle. which has big goals to replace delivery vehicles with cargo bikes in the city centre. We caught up with owner James Tyer to find out more
Bud Couriers is all about making city centre delivery better for everyone involved. Our tagline is delivering boxes, brands and a better tomorrow-these being the items we carry, the businesses we work with and the environment we are protecting explains James. We called the company Bud as it stands for Bespoke Urban Delivery but the idea is that we want to be a "bud" or friend to the people we work with.
Delivery in Newcastle city centre is becoming really complicated and crazy expensive, for example with all of the clean air zone charges and the low traffic neighbourhoods. We can get things delivered up to about 50 percent quicker than a van can in the city centre so that makes things cheaper, plus we offset all of the headache. It's becoming really difficult for small businesses to understand how to move things around efficiently. We want to empower business with the use of our cargo bikes to not have to worry about that sort of stuff.
James tells us how he learned the skills to be a courier in the urban jungle that is the city. I was a salesperson originally, selling anything from scratch cards to sports equipment, as well as oil and gas, but alongside my first career I did a bit of Deliveroo riding too, he says. "The type of bike I would use is called a fixed gear bike which has just one set gear and either one or no brakes
"You have to be a little bit wiser to the roads using "fixies" because you don't have the stopping power of two brakes, but what ended up happening was I found a lot of joy pre-empting what the public might do. It is a little bit dangerous but that's kind of half of the fun and it served me really well to learn how to transport an item from one area of Newcastle, through the city centre traffic to another, as safely as possible."
The better tomorrow side of things is because our bikes are up to 95 percent less emitting than a diesel-powered van. We have such a small carbon footprint over the lifetime of our bicycles so it's a super clean, sustainable way of doing things. We just think it's a much better way of moving things around that's quick, cheaper and more eco-friendly
Before long, James came to realise that where he really felt at-one was riding around Newcastle delivering pizzas. He decided to speak to a few business owners to see if there was anything else he could move around for them and invested in a cargo bike for his new venture. I quickly came to realise that most business owners wanted really heavy stuff moved around – we're talking up to around 200kg – and obviously You can't really carry that on a regular bike, says James.
Seeing the models in the Netherlands, I just thought how hard could it be to buy myself a cargo bike and start seeing if I can move anything bigger for people? A cargo bike is specially designed with a large payload and carrying capacity at the front. We now also use a six foot long, six foot tall trailer and this means we can carry up to about a quarter of a tonne of cargo per bike and about as much as a van can
James tells us with all this weight it can be quite difficult getting up hill sometimes, which is why Bud Couriers deliver in Newcastle only and not to its steeper neighbour Gateshead. However as long as it is within a 30-mile radius of Newcastle city centre. James and his team are open to take anything, ranging from individuals needing same-day delivery, to businesses looking for a multi-drop round.
"We can carry anything from a letter up to a fridge freezer, says James. "We've done office moves, moved houses, regular coffee and bakery deliveries, and we deliver jars of kimchi and jam. We also do farming stuff and work with community projects and we even deliver urgent deliveries for solicitors – for example millions of pounds worth of inheritance documents that need to be at HMRC recorded in 10 minutes. So we do all sorts. Anything that'll fit on the bike!
For those questioning the need for bike couriers in the city centre, James offers some illuminating facts and figures. People need to know what the situation is in Newcastle, he says. There's certain roads which are reaching double if not triple the legal levels of air toxicity, for example the Great North Road. Gosforth High Street. and the Coast Road.
They're really bad, and it's effecting up to 25,000 people a year in Newcastle with a negative health impact and you can taste a lot of the pollution in the air. So it's just about letting people know there is other options because something needs to change.
James' goal is to replace all of the delivery vehicles in Newcastle city centre that are either going less than two miles or are at less than 25 percent of capacity with cargo bikes. That's about a quarter of all of the delivery vehicles in the city centre. At the moment we only have three bikes and three riders so we estimate that we're on about one and a half percent of that 25 percent goal, but the goal is to scale that up, take on more businesses, work with large enterprises like the NHS and Newcastle City Council, and just get our bikes doing as many deliveries as possible.
"We're just looking to have a conversation with everybody to see if cargo bikes can be used to be more efficient for some of their logistics"
James says the best way to work with Bud Couriers is to call. "Every delivery is slightly different – different things need moving by different riders, at different times of day, on different bikes. So we're just looking to have a conversation with everybody to see if cargo bikes can be used to be more efficient for some of their
Sustainability is one of the biggest issues that we're facing as a species at the moment, and everybody is looking to try and be more sustainable. It just so happens that I love riding bikes around the city centre and we don't need petrol to power them It's also a really good way for business owners to show that they're working on their carbon footprint while getting more efficient. distribution. It really is good for everyone involved.
More information about Bud Couriers get in touch, email info@budcouriers.co.uk or call on 07534 362290.
If you'd like to get involved and have a passion for bikes and a good understanding of cycling in the city then please send your CV to info@budcouriers.co.uk if you would like to get out of the office too?
Thanks for helping make the city a better place.