If you take a look around the city at any time of day you'd be hard-pressed not to catch a few cyclists hauling around a large box on their back, delivering food to the hungry people of Newcastle Upon Tyne and usually getting blown around in the process.
These days the public is pretty well acquainted with the idea that bicycle couriers can get food to your door in a flash but did you know that E-Bikes and E-Cargo Bikes are quickly becoming the most sensible way of having your local delivery needs met in the city?
We took a look at what it takes to be a full-time E-Bike Courier and how local businesses and the city are benefiting from this new mode of transport.
Often couriers are students, or professionals looking for an extra income stream to supplement their weekends socialising or their Amazon Prime spending habits, but delivering any product on a bike is a style of work only a certain few can manage full-time. We know our couriers make this look easy so we spoke to the owner of Bud Couriers to find out what it actually takes.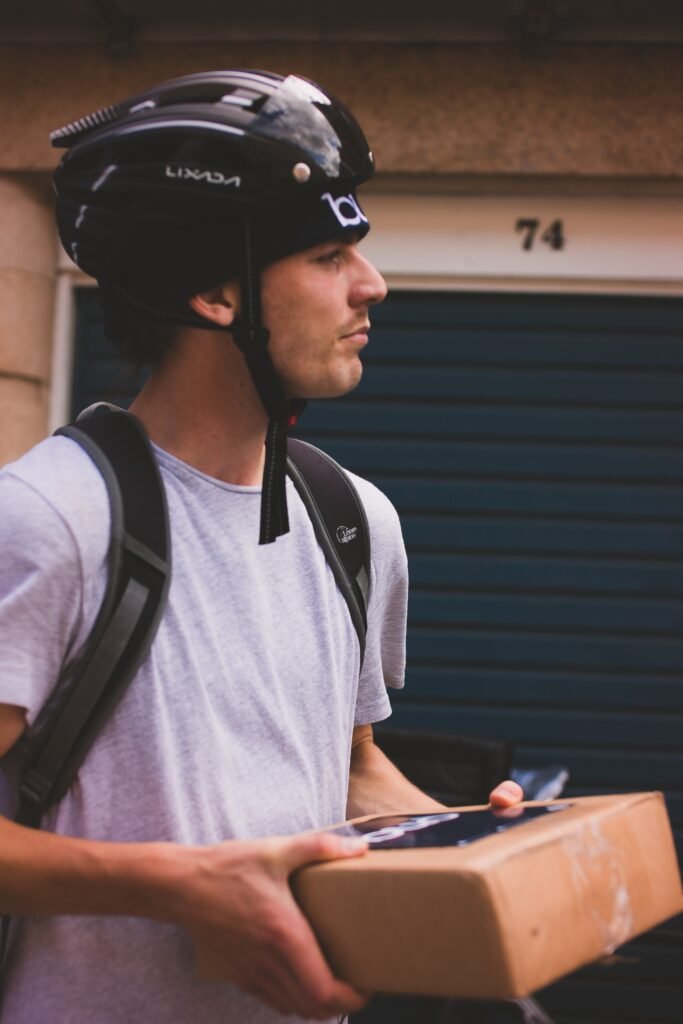 Talk us through your typical morning routine, James.
I like to keep my mornings as structured as possible, although the occasional pressures of life can get in the way and that pesky snooze button screams for my attention like a fly to a bulb.
A typical morning see's me generally hearing my alarm around 5-6ish and immediately getting the kettle boiled – stat! I'm no good to anybody without caffeine pedalling through my veins.
If the weather is okay I generally have my coffee on the balcony overlooking Newcastle, being inspired by the architecture and achievement therein, it also gives me a chance to confirm with the weather as to what clothing I'm going to need that day.
After the coffee is flowing it's time to stretch, soothing my legs from the previous days riding. I'd advise cycling specific yoga.
For breakfast it's usually Weetabix, I mix it up with different toppings but usually a banana, some nuts and a whole load of sugar. There is a reason people say, 'Have you had Weetabix this morning?' https://www.youtube.com/watch?v=XWejYtkt-FI&ab_channel=donnacha13
(Side note: breakfast is for after stretching, not before. You're nowhere near as bendy.)
What is the most enjoyable part of your job?
The most enjoyable part of the job to me is those rare days when the sun is shining, the legs feel good and the whole city is out enjoying themselves. These are the days where I would do this job for free. It feels like I'm an integral cog in the moving machine that is Newcastle city centre, it's my flow state.
What challenges do you face while working?
The biggest challenge in working outside is keeping my body temperature regulated. You know what its like, one minute you're vibing away putting on shorts and a t-shirt for a sunny morning spin and by midday you're wiping the condensation from your phone to take a look at your map.
With the nature of the job there is lots of stopping and starting, cooling and heating. Grinding your way up a steep incline then flying effortlessly down the other side. Meaning temperature regulation is a high priority or risk suffering the consequences.
So my rule of thumb is pack as many layers as is reasonable, Layers, Layers, Layers. You can always take them off but can't always put them on. I like to make sure that all my layers are zip-able too, so when I need, I can zip a few up or down.
A quote from the great Billy Connelly 'In Scotland, there is no such thing as bad weather – only the wrong clothes'. The same applies in Newcastle when riding an E-Bike.
How did you get into the whole cycle courier scene?
I was always interested in zooming around on wheels. In my youth I did everything from Skateboarding, Rollerblading, BMX and even a bit of extreme Unicycling for a while (aah the good ol' days, when throwing yourself down a set of stairs was considered fun). I eventually transitioned over to Track Bikes because of their speed and beautiful aesthetic but due to the lack of velodrome in Newcastle I took my noble steed to the city traffic and that's where I found my niche.
I love nothing more than taking in the city and its potential hazards while cycling, having to stay ten steps ahead due to the unique style of braking that track bikes entail it kept me very well practised in the art of couriering, Getting your item from A to B with as few potholes on the way.
I then had the bright idea that I can monetise my love of city cycling by joining the array of different delivery apps, we have all grown to love. Since then I have worked for other companies delivering all sorts of different items.
Any final words?
The final thing I would like to make apparent to anybody thinking about getting on a bike for a living is… Always make sure the bike you are riding fits you well (I had to learn this the hard way).
Your body is under a lot of repetitive strain so when a bike doesn't fit you properly this can lead to all sorts of aches, pains and even more serious injuries.
So that is our two cents on the matter, we hope you have enjoyed a little look into the life of a courier and would love to see more vans and cars being replaced by bikes, E-bikes and E-cargo bikes. You are helping to create a cleaner, greener and more sustainable future for the city.
If you would like more information on how you can get your items delivered in a fast and future proof way then visit us at www.budcouriers.co.uk or send an email to [email protected].